Our Meeting Place: South side of Tucker Coliseum, Ark Tech Univ. Campus, Russellville, Arkansas (35.29453°, -93.13271°)
(If for some reason the south side is being used for an event, we will be meeting on the far north side of Tucker)
We usually leave around 8:00 AM, so don't be late! And if we don't know you are coming, we don't know to wait!
---
See Calendar of Events Below
---
---
Scheduled Hikes
SEE YOU IN OCTOBER, HAVE A GREAT SUMMER.
---

Remember Kids like to hike too!
Enjoy Arkansas
Contact Danny Hale 479-886-2625 (Cell) or email: takahik@takahik.com for more information or if you have questions about hiking or where to hike.
Scroll down below and see where we've been or use our Search Engine on our Home Page
---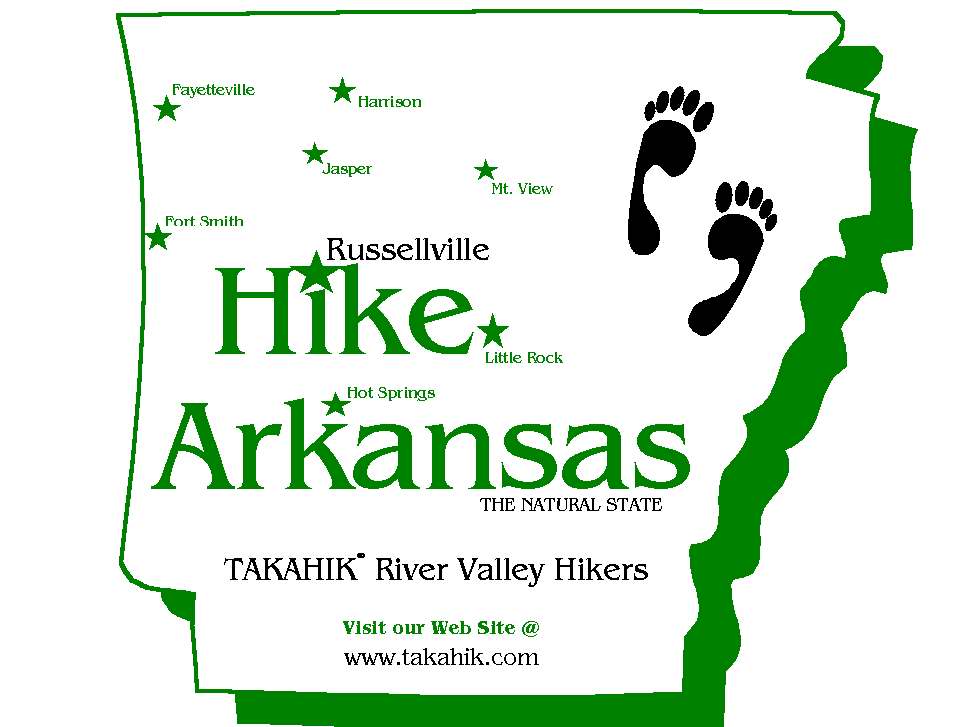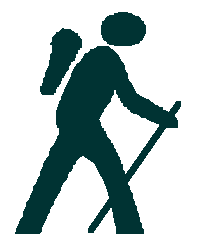 Previous Hikes 1999, 2000, 2001, 2002, 2003, 2004, 2005, 2006, 2007, 2008, 2009, 2010, 2011, 2012, 2013, 2014, 2015, 2016, 2017, 2018, 2019, 2020, 2021, 2022, 2023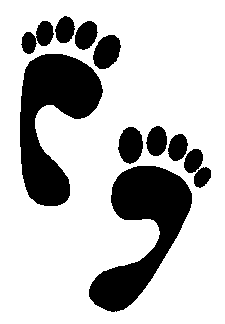 ---
OUR FIRST SEASON
Pedestal Rocks and Kings Bluff February 20, 1999
Seven Hollows March 5, 1999
Mt. Magazine March 20, 1999
Mt. Magazine Return Hike April 10, 1999
Mt. Nebo Birthday Hike April 17, 1999
Twin Falls Bushwhack April 17, 1999
Lost Valley and Alum Cove April 24, 1999
Twin Falls Return Hike May 15, 1999
OHT Maintenance May 22, 1999
---
OUR SECOND SEASON
Mt. Nebo Bench Trail October 9, 1999
Butterfield Loop Trail October 16-17, 1999
OHT Maintenance October 23, 1999
Round Top Scenic Trail / Cliff House October 30, 1999
Evan's Point Loop November 6, 1999
Seven Hollows November 13, 1999
Glory Hole / Lost Valley November 20, 1999
Bona Dea Trail / Stoby's December 4, 1999
Sam's Throne December 11, 1999
Kings Bluff Downunder December 18, 1999
Mt. Nebo Full Moon Hike December 22, 1999
Mt. Nebo Hike Up January 1, 2000
Hemmed-In Hollow January 15, 2000
Bridge Rock Trail February 5, 2000
Indian Creek February 19, 2000
Haw Creek / Gee Creek March 4, 2000
Bluffs of Russellville / Stoby's March 11, 2000
Bear Cave Trail / Cedar Falls March 18, 2000
Hunt's Loop March 26, 2000
Buffalo River Trail (Kyle's to Erbie) April 1, 2000
Sam's Throne April 8, 2000
Cedar Creek Trail April 22, 2000
OHT Maintenance April 29, 2000
Hawksbill Craig / Cloudland May 6-7, 2000
Round Top Scenic Trail / Cliff HouseTrail May 13, 2000
Pedestal Rock / Cookout May 20, 2000
---
OUR THIRD SEASON
Mt. Nebo Rim Trail October 7, 2000
OHT Maintenance October 14, 2000
Cove Lake Loop Trail October 21, 2000
Hawksbill Craig / Bluegrass October 28, 2000
White Rock Mt. / Shores Lake November 4, 2000
Kings River Falls / Dripping Springs November 18, 2000
Round Top / Point of View December 2, 2000
Signal Hill Mt. Magazine December 9, 2000
Sam's Throne (In the ice) December 23, 2000
Sam's Throne January 20, 2001
Twin Falls January 27, 2001
Bluffs of Russellville February 3, 2001
Buzzard's Roost February 17, 2001
Kings Bluff Downunder February 24, 2001
Cedar Creek Trail / Mather Lodge March 3, 2001
OHT Maintenance March 10, 2001
Alum Cove / Glory Hole March 17, 2001
Buffalo River Trail (Ponca to Steel Creek) March 24, 2001
Dug Hollow March 31, 2001
Bona Dea Guided Hike April 7, 2001
Seven Hollows April 14, 2001
Little Missouri May 5, 2001
Erbie Loop May 12, 2001
Canoe Trip Pruitt to Hasty May 19, 2001
---
OUR FOURTH SEASON
Caudle Overlook September 22, 2001
Mt. Nebo Bench Trail October 6, 2001
East Fork Wilderness Access October 20, 2001
Hawksbill Craig / Bluegrass October 27, 2001
OHT Maintenance November 3, 2001
Indian Creek November 10, 2001
Haw Creek Falls November 17, 2001
Bayou Bluff December 1, 2001
Blue Hole December 8, 2001
Sam's Throne December 15, 2001
Kings Bluff Falls Downunder December 29, 2001
Mt. Nebo Hike Up January 1, 2002
Buzzard's Roost January 12, 2002
Mt. Magazine January 26, 2002
Boen Gulf Access February 2, 2002
OHT Fairview East February 9, 2002
Sam's Throne February 16, 2002
White Rock Mt. / Shores Lake February 23, 2002
Tea Table Rock March 9, 2002
OHT Maintenance March 16, 2002
Round Top Scenic Trail March 23, 2002
Cedar Creek / Mather Lodge April 6, 2002
Kings River Trail April 20, 2002
Hemmed-In Hollow April 27, 2002
Buffalo Point May 4, 2002
Twin Falls May 11, 2002
Buffalo River Canoe Trip June 1, 2002
---
OUR FIFTH SEASON
Bona Dea Cleanup September 28, 2002
Mt. Nebo Rim Trail October 5, 2002
Hunts Loop October 12, 2002
Hawksbill Crag October 26, 2002
OHT Maintenance November 2, 2002
Lake Sylvia / Flatside Pinnacle November 9, 2002
Pack Rat Falls / Pam's Grotto November 16, 2002
Seven Hollows / Mather Lodge November 23, 2002
Woolly Hollow December 7, 2002
Buffalo River Trail (Cedar Grove to Pruitt) December 14, 2002
Mossback Ridge Trail December 21, 2002
Sam's Throne (in the snow) December 28, 2002
Mt. Nebo Hike Up January 1, 2003
Longpool Falls January 11, 2003
Buzzard's Roost January 18, 2003
Magnolia Falls / Boen Gulf Access January 25, 2003
Keefe Falls / Richland Creek Wilderness February 1, 2003
Tea Table Falls February 15, 2003
Lost Valley / Elk Watch February 22, 2003
Glory Hole & Beyond March 1, 2003
Hideout Hollow / McFerrin Point March 8, 2003
Penhook Hollow March 15, 2003
Stack Rock Homestead Falls / Dry Creek Falls March 22, 2003
Graves Canyon March 29, 2003
Cedar Creek / Mather Lodge April 5, 2003
Twins Falls (A new way) April 19, 2003
Dogwood Falls April 26, 2003
OHT Maintenance May 3, 2003
Buffalo River Canoe Trip May 10, 2003
Pedestal Rock / Kings Bluff May 17, 2003
---
OUR SIXTH SEASON
Mt. Nebo Rim Trail October 4, 2003
Round Top Scenic Trail / Cliff House October 11, 2003
Cove Lake Loop Trail October 18, 2003
Hawksbill Crag / Bluegrass October 28, 2003
Devil's Den November 1, 2003
Pack Rat Hollow November 8, 2003
OHT Maintenance November 15, 2003
Thunder Canyon November 22, 2003
Sam's Throne December 6, 2003
Kings Bluff Downunder December 20, 2003
Mt. Nebo Hike Up January 1, 2004
Tea Table Rock January 10, 2004
Mt. Magazine Bluffs January 24, 2004
Buzzard's Roost January 31, 2004
Slot Rock / Bear Skull Falls February 7, 2004
Valentine's Day Hike to Cedar Creek February 14, 2004
Alum Cove / Glory Hole February 21, 2004
Dug Hollow Bushwhack February 28, 2004
Penhook Hollow March 6, 2004
Lichen Falls March 13, 2004
Twin Falls / Caves March 20, 2004
Pam's Grotto March 27, 2004
Boen Gulf Access April 3, 2004
Hemmed-In Hollow April 17, 2004
Sugar Loaf Mountain May 1, 2004
Seven Hollows Carvings May 8, 2004
Little Missouri May 15, 2004
Buffalo River Canoe Trip May 22, 2004
---
OUR SEVENTH SEASON
Mt. Nebo Bench Trail October 2, 2004
Bear Cave / Cedar Falls Trails October 9, 2004
OHT Maintenance October 16, 2004
Sylamore Creek October 23, 2004
Hawksbill Crag / Bluegrass October 30, 2004
Stoby's / Bona Dea Scavenger Hunt November 6, 2004
Sugar Loaf Mountain November 13, 2004
Withrow Springs November 20, 2004
Buffalo River Trail Ponca to Steel Creek Dec. 4, 2004
Moccasin Gap Dec. 11, 2004
Mt. Magazine Dec. 18, 2004
Hike Up Mt. Nebo Jan. 1, 2005
Thunder Canyon Jan. 8, 2005
White Rock Mt. / Shores Lake Jan. 22, 2005
Tea Table Rock Jan. 29, 2005
Penhook Hollow Feb. 5, 2005
Paradise Falls Feb. 12, 2005
Fishtrap Hollow Falls Feb. 19, 2005
Sam's Throne Feb. 26, 2005
Cove Lake March 5, 2005
Oark Tour March 12, 2005
Lost Valley / Armadillo Falls March 19, 2005
Cedar Creek March 26, 2005
Natural Bridge / Hurricane Creek April 2, 2005
Haw Creek Falls / Pam's Grotto April 9, 2005
Buzzard's Roost April 16, 2005
Round Top Mt. / Cliffhouse April 23, 2005
Whitaker Bushwhack May 7, 2005
Buffalo River Canoe Trip Pruitt to Hasty May 14, 2005
Twin Falls May 21, 2005
OHT Maintenance May 28, 2005
---
OUR EIGHTH SEASON
Mt. Nebo Rim Trail Oct. 1, 2005
Pedestal Rocks/Kings Bluff Oct. 8, 2005
Cove Lake Loop Oct. 15, 2005
Hawksbill Crag / Bluegrass Festival Oct. 22, 2005
OHT Maintenance Oct. 29, 2005
Slot Rock / Lick Creek Nov. 5, 2005
Hudson Shelter Falls / Owens Mt. Scenic Area Nov. 12, 2005
Keefe Falls / Fuzzybutt Falls / Six Fingers Falls Nov. 19, 2005
Cedar Creek / Mather Lodge Dec. 3, 2005
Longpool Falls / Bushwhack Dec. 10, 2005
Moccasin Gap Christmas Hike Dec. 17, 2005
Hike Up Mt. Nebo Dec. 31, 2005
Silver Point Trail Jan. 7, 2006
Mt. Magazine North Rim Trail Jan. 14, 2006
Kings Bluff Downunder Jan. 21, 2006
Bona Dea Jan. 28, 2006
Alum Cove /Glory Hole Feb. 4, 2006
Seven Hollows Feb. 11, 2006
Indian Creek Feb. 25, 2006
Boxley Valley Quarry / Panther Creek Mine Mar. 4, 2006
Sam's Throne Mar. 11, 2006
Buzzard's Roost Mar. 25, 2006
William's Wood's Preserve April 1, 2006
Owens Mt. / Ricketts Mt. April 8, 2006
Sylamore Creek Trail / Mt. View Folk Festival April 15, 2006
Round Top Mountain April 22, 2006
Buck Branch / Boss Hollow Bushwhack May 6, 2006
Buffalo River Canoe Trip May 13, 2006
Little Missouri May 20, 2006
OHT Maintenance June 3, 2006
---
OUR NINTH SEASON
Mt. Nebo Rim Trail October 7, 2006
Cove Lake Loop October 14, 2006
Hawksbill Crag/Bluegrass Festival October 21, 2006
OHT Maintenance October 28, 2006
Lake Sylvia / Flatside Pinnacle November 4, 2006
Cave Creek Bluffs November 11, 2006
Ouachita Trail Section 8 November 18, 2006
Cedar Creek / Mather Lodge December 2, 2006
Haw & Gee Creek December 9, 2006
Moccasin Gap Christmas Hike December16, 2006
Mt. Nebo Hike Up December 30, 2006
Hurricane Creek Natural Bridge January 6, 2007
Boen Gulf Access January 20, 2007
In Search of D'Coda January 27, 2007
Tea Table Rock February 3, 2007
Twin Falls February 10, 2007
Dismal Hollow February 17, 2007
Buffalo River Trail (Ponca to Steel Creek) February 24, 2007
Penhook Hollow March 3, 2007
Stack Rock March 10, 2007
Lichen and Kings River Falls March 17, 2007
Bona Dea Trails/Stoby's March 24, 2007
Fern Gully / White Rock Mt. March 31, 2007
Round Top Mt./Cliffhouse April 7, 20
Thunder Canyon April 14, 2007
Sylamore Creek / Festival April 21, 2007
In Search of Haley April 28, 2007
Sam's Throne May 5, 2007
Mt. Magazine North Rim Trail May 12, 2007
Buffalo River Canoe Trip May 19, 2007
OHT Maintenance June 2, 2007
---
OUR TENTH SEASON
Mt. Nebo Rim Trail October 6, 2007
Owens and Ricketts Mt. October 13, 2007
Hawksbill Crag / Bob Chester Memorial October 20, 2007
Seven Hollows October 27, 2007
The Slatey Place November 3, 2007
OHT Fall Maintenance November 10, 2007
Buzzard's Roost November 17, 2007
Williams Woods December 1, 2007
Ouachita Trail Section Seven December 8, 2007
Christmas Tree Hike (Bona Dea) December 15, 2007
Sweden Creek Falls December 22, 2007
Hike Up Mt. Nebo January 1, 2008
Tea Table Rock January 12, 2008
Thunder Canyon Falls January 19, 2008
Cedar Creek Falls / Canyon Trial January 26, 2008
Kings Bluff Falls Downunder February 2, 2008
Boen Gulf February 9, 2008
Spainhour Falls February 23, 2008
Pam's Grotto March 1, 2008
Penhook Hollow March 15, 2008
Sam's Throne (A New Place) March 22, 2008
Shop Bluff March 29, 2008
Nature Center April 5, 2008
Fern Gully/White Rock Mt. April 12, 2008
Hemmed-In Hollow April 19, 2008
Round Top Mt. April 26, 2008
Keefe Falls May 3, 2008
Whitaker Bushwhack May 10, 2008
Buffalo River Canoe Trip May 17, 2008
Picnic May 22, 2008
Ozark Highlands Trail Maintenance May 31, 2008
---
OUR ELEVENTH SEASON
Mt. Nebo Rim Trail / Picnic October 4, 2008
Moccasin Gap October 11, 2008
OHT Maintenance October 18, 2008
Hawksbill Crag October 15, 2008
The Slatey Place November 1, 2008
Kings Bluff Falls Maintenance November 8, 2008
Pedestal Rocks Maintenance November 17, 2008
An Evening with Tim Ernst November 21, 2008
Finding D'Coda November 22, 2008
Cave Creek Bluffs November 29, 2008
Sylamore Creek December 6, 2008
Bona Dea Christmas Tree Hike December 13, 2008
Mt. Magazine North Rim December 20, 2008
Hike Up Mt. Nebo January 1, 2009
Dismal Hollow January 10, 2009
Williams Woods January 17, 2009
Gee Creek January 24, 2009
Hunts Loop February 7, 2009
Cedar Creek February 14, 2009
Lost Valley February 21, 2009
OHT Maintenance March 7, 2009
Cove Lake Loop March 14, 2009
Sweden Creek March 21, 2009
Indian Creek April 4, 2009
Helms Gallery/Red Rock April 11, 2009
Seven Hollows April 18, 2009
Buzzard's Roost April 25, 2009
Buffalo River Canoe Trip May 9, 2009
Sam's Throne May 16, 2009
---
OUR TWELFTH SEASON
Mt. Nebo Rim Trail October 3, 2009 (53-4.0)
Moccasin Gap October 10, 2009 (18-4.0)
OHT Maintenance October 17, 2009 (9-6.5)
Hawksbill Crag October 24, 2009 (30-3.0)
Glory Hole / Paradise Falls October 31, 2009 (27-5.5)
The Red Rock Cow Pattie Stroll November 7, 2009 (24-3.0)
Tea Table Rock November 14, 2009 (14-3.0)
Pedestal Rock / Kings Bluff Maintenance November 21, 2009 (20-4.5)
Dismal Hollow November 28, 2009 (12-5.0)
Twin Falls December 5, 2009 (12-7.0)
Bona Dea Christmas Tree Hike December 12, 2009 (33-3.5)
Thunder Canyon Falls & Caves December 19, 2009 (12-5.0)
Hike Up Mt. Nebo January 1, 2010 (50-4.0)
The Slaty Place January 16, 2010 (14-5.0)
Stack Rock January 23, 2010 (7-5.0)
Pam's Grotto February 6, 2010 (10-2.0)
Lost Valley February 13, 2010 (14-3.0)
Kings Bluff Falls Downunder February 20, 2010 (15-6.0)
Lake Sylvia / Flatside Pinnacle February 27, 2010 (23-4.0)
Mt. Magazine West End March 6, 2010 (18-3.0)
Bear Creek Bushwhack March 13, 2010 (14-3.0)
Lick Creek / Slot Rock March 20, 2010 (11-5.0)
Richland Creek Float March 25, 2010
Graves Canyon March 27, 2010 (16-3.0)
Redding-Spy Rock Loop April 3, 2010 (17-9.0)
Buffalo River Trail Steele Creek East April 10, 2010 (16-6.0)
Boen Gulf Access April 17, 2010 (15-4.0)
Earth Day 2010 April 17, 2010
OHT Maintenance May 1, 2010 (4-7.0)
Buffalo River Float May 8, 2010 (27-7.5)
Sylamore Creek Trail (Blanchard to Allison) May 15, 2010) (8-5.0)
Picnic May 27, 2010 (52)
---
OUR THIRTEENTH SEASON
Mt. Nebo Rim Trail October 2, 2010 (74-3.5)
Moccasin Gap October 9, 2010 (35-5.0)
Cave Creek Bluffs October 16, 2010 (24-2.0)
OHT Maintenance October 23, 2010 (14-6.5)
Hawksbill Crag October 30, 2010 (27-3.0)
Hurricane Creek Natural Bridge November 6, 2010 (18-4.0)
The Red Rock Cow Pattie Stroll November 13, 2010 (19-2.0)
Hemmed-In Hollow November 20, 2010 (22-8.0)
Haw-Gee Creek November 27, 2010 (21-5.0)
Lost Valley Dec. 4, 2010 (22-3.0)
Bona Dea Christmas Tree Hike Dec. 11, 2010 (28-3.0)
An Evening with Tim Ernst Dec. 13, 2010 (265+)
Buzzard's Roost Dec. 18, 2010 (24-4.0)
Hike Up Mt. Nebo Jan. 1, 2011 (35-5.0)
Owens & Ricketts Mt. Jan. 8, 2011 (25-3.0)
Tyler Bend Jan. 15, 2011 (11-4.0)
Mt. Magazine Trail Jan. 29, 2011 (25-7.5)
Mt. Magazine in the Snow Feb. 5, 2011 (11-2.0)
Sam's Throne (A New Way) Feb. 19, 2011 (22-4.0)
Pedestal Rocks Exploration Hike Feb. 26, 2011 (12-4.0)
Spainhour Falls March 5, 2011 (9-7.0)
Nelm's Gallery Hike March 12, 2011 (18-3.0)
Tea Table Rock March 19, 2011 (16-4.0)
Punchbowl Falls March 26, 2011 (4-5.0)
Lick Creek/Slot Rock April 2, 2011 (13-5.0)
Devil's Den April 9, 2011 (21-5.0)
Pinnacle Mt. April 16, 2011 (9-5.0)
Ozark Waterfalls April 23, 2011 (11-3.0)
Keefe Falls April 30, 2011 (7-3.0)
OHT Maintenance May 7, 2011 (4-7.0)
Picnic May 12, 2011 (32)
Buffalo River Canoe Trip May 14, 2011 (16)
Buffalo River Trail (Ponca to Pruitt) June 24-26, 2011 (3-10.0)
---
OUR FOURTEENTH SEASON
Mt. Nebo Rim Trail October 1, 2011 (70-3.5)
Seven Hollows October 8, 2011 (26-5.0)
Moccasin Gap October 15, 2011 (11-5.0)
OHT Maintenance October 22, 2011 (10-6.0)
Gloria Hole/Alum Cove October 29, 2011 (25-4.0)
Red Rock Cow Pattie November 5, 2011 (10-2.0)
Fern Gully November 12, 2011 (23-3.0)
Penhook Hollow November 19, 2011 (14-3.0)
Rock Creek Bushwhack November 26, 2011 (7-2.0)
Boen Gulf Access December 3, 2011 (7-3.0)
Hawksbill Crag, Etc. December 10, 2011 (12-4.0)
Bona Dea Christmas Hike December 17, 2011 (12-3.0)
Hike Up Mt. Nebo December 31, 2011 (17-5.0)
Graves Canyon January 7, 2012 (22-3.0)
Stack Rock January 14, 2012 (17-3.0)
Old Homesites Hike January 21, 2012 (23-3.5)
Mt. Magazine Trails January 28, 2012 (26-5.0)
Sidewinder Bushwhack February 4, 2012 (14-3.0)
Bowers Hollow Falls Bushwhack February 11, 2012 (6-5.0)
Mill Creek Loop/BRT February 18, 2012 (10-4.0)
Millstones/Sandstone Castles/Twin Falls February 25, 2012 (12-6.0)
Longpool Area Bushwhack March 3, 2012 (17-3.0)
Broadwater Hollow / Thunder Canyon March 10, 2012 (15-5.0)
Winter Hollow March 17, 2012 (15-3.0)
Indian Creek March 24, 2012 (8-4.0)
OHT Maintenance March 31, 2012 (10-6.0)
Rough Hollow April 7, 2012 (14-4.0)
Rock Creek Bushwhack April 14, 2012 (12-3.0)
Mt. Nebo Rim & Bench Trail April 21, 2012 (5-7.0)
Sam's Throne April 28, 2012 (13-4.0)
Buffalo River Canoe Trip May 5, 2012 (11)
Picnic May 10, 2012 (42)
---
OUR FIFTEENTH SEASON
Appalachian Trail September 27-29, 2012 (3-35)
Mt. Nebo Rim Trail October 13, 2012 (58-3.5)
Buzzard's Roost October 20, 2012 (32-4.0)
Cave Creek Bluffs October 27, 2012 (17-2.0)
OHT Fall Maintenance November 3, 2012 (11-6.0)
Cedar Creek Trail / Mather Lodge November 10, 2012 (37-3.0)
Lost Valley November 17, 2012 (20-3.0)
Tyler Bend December 1, 2012 (17-4.0)
OHT / Haw Creek / Pam's Grotto December 8, 2012 (19-4.5)
An Evening with Tim Ernst December 13, 2012 (225+)
Bona Dea Christmas Tree Hike December 15, 2012 (18-3.5)
Rough Hollow Bushwhack December 22, 2012 (22-2.0)
Hike Up Mt. Nebo January 1, 2013 (18-5.0)
Hurricane Creek Natural Bridge January 12, 2013 (14-3.0)
Forked Mountain January 19, 2013 (20-4.0)
Moccasin Gap January 26, 2013 (11-5.0)
Falling Water Creek Tour February 2, 2013 (32-6.0)
The Slaty Place February 9, 2013 (8-5.0)
Alum Cove / Glory Hole February 16, 2013 (16-3.0)
Left Fork Big Creek Bushwhack February 23, 2013 (27-4.0)
Pedestal Rock Exploration Hike March 2, 2013 (13-5.0)
Owens & Ricketts Mt. / Ricketts Know March 9, 2013 (22-4.0)
Round Top Mountain March 16, 2013 (33-3.0)
Kings River Falls March 23, 2013 (9-2.0)
Sidewinder Falls Bushwhack March 30, 2013 (8-3.0)
Hedges Homesite April 6, 2013 (7-4.0)
Boen Gulf Access April 13, 2013 (18-3.0)
Sylamore Creek Trail April 20, 2013 (14-5.0)
Sam's Throne April 27, 2013 (6-3.0)
Picnic May 9, 2013 (30)
OHT Maintenance June 22, 2013 (12-8.0)
---
OUR SIXTEENTH SEASON
Glacier National Park August 17-19, 2013 (3-23.0)
Mt. Nebo Rim Trail October 5, 2013 (55-3.5)
Bear Hollow Mt. Magazine October 12, 2013 (16-5.0)
Sam's Throne October 19, 2013 (22-4.0)
BRT (Ponca to Steel Creek) October 26, 2013 (24-5.0)
OHT Maintenance November 2, 2013 (19-8.0)
Seven Hollows November 9, 2013 (47-4.5)
Gee Creek November 16, 2013 (22-6.0)
Lake Sylvia/Flatside Pinnacle November 23, 2013 (21-5.0)
Pinnacle Mountain November 30, 2013 (10-3.0)
An Evening with Tim Ernst December 12, 2013
Cedar Creek December 28, 2013 (9-3.0)
Hike Up Mt. Nebo January 1, 2014 (34-5.0)
Rock Creek Bushwhack January 4, 2014 (20-5.0)
Longpool Area Bushwahck January 11, 2014 (30-4.0)
Winter Hollow Bushwhack January 18, 2014 (22-5.0)
Graves Creek Bushwhack January 25, 2014 (17-5.0)
Secrets of Seven Hollows February 15, 2014 (26-6.0)
Sandstone Castles/Millstone Search February 22, 2014 (18-6.0)
Dismal Hollow Bushwhack March 1, 2014 (15-6.0)
Round Top Mountain March 8, 2014 (12-3.0)
Buzzard Roost/Pam's Grotto March 15, 2014 (11-6.0)
Cave Creek Bluffs March 22, 2014 (7-4.0)
Hawksbill Crag / Whitaker Creek March 29, 2014 (28-10.0)
Thunder Canyon Falls April 5, 2014 (6-4.0)
Mt. Magazine Trails April 12, 2014 (18-5.0)
Illinois Bayou Park April 17, 2014 (13-2.0)
OHT Maintenance April 19, 2014 (10-10.0)
Devils Canyon April 26, 2014 (9-3.0)
Picnic May 1, 2014 (30)
Illinois Bayou Trail May 3, 2014 (19-5.0)
Buffalo River Canoe Trip May 10, 2014 (19-2.0)
---
OUR SEVENTEENTH SEASON
Mt. Nebo Rim Trail October 4, 2014 (51-4.0)
Kings Bluff / Pedestal Rock Bushwhack October 18, 2014 (12-5.0)
OHT Maintenance October 25, 2014 (11-8.0)
Sam's Throne November 1, 2014 (15-4.0)
Boxley Mill / Lost Valley November 8, 2014 (63-3.0)
Wolf Creek Bushwhack November 15, 2014 (14-3.0)
Hedges Homestead November 29, 2014 (19-4.0)
An Evening with Tim Ernst December 1, 2014 (210)
Dogpatch Revisited December 6, 2014 (18-3.0)
Owens & Ricketts Mt. December 13, 2014 (19-3.0)
Bear Creek Bushwhack December 20, 2014 (23-4.0)
Lick Creek/Slot Rock December 27, 2014 (14-5.0)
Hike Up Mt. Nebo January 1, 2015 (29-5.0)
A Few Secrets of Seven Hollows January 10, 2015 (16-4.0)
Victor Indian Cave January 17, 2015 (29-2.0)
Falling Water Creek Tour January 24, 2015 (37-4.0)
Hemmed-In Hollow January 31, 2015 (23-9.0)
Red Rock Hike February 7, 2015 (55-3.0)
Rock Creek Bushwhack February 14, 2015 (27-5.0)
Rough Hollow Bushwhack March 7, 2015 (12-4.0)
Stepp Creek Bushwhack March 14, 2015 (23-3.0)
Blue Hole March 21, 2015 (16-3.0)
OHT Maintenance March 28, 2015 (6-3.0)
The Wonders Downunder April 4, 2015 (11-4.0)
Penhook Hollow / Bayou Bluff April 11, 2015 (12-4.0)
Pilot Rock/Pilot Knob/Arkansas Sphinx/Haw Creek Falls/Pam's Grotto April 18, 2015 (18-4.0)
Winter Hollow Bushwhack April 25, 2015 (13-5.0)
Buffalo River Float Trip May 2, 2015 (28-8.0)
---
OUR EIGHTEENTH SEASON
Mt. Nebo Rim Trail October 3, 2015 (68-4.0)
Cove Lake Trail October 10, 2015 (28-5.0)
Buffalo River Trail (Ponca to Steel Creek) October 17, 2015 (41-7.0)
OHT Maintenance October 24 & 26, 2015 (8-2.0) (1-8.0)
Buzzard's Roost November 7, 2015 (25-4.0)
Sandstone Castles November 14, 2015 (33-5.0)
Forked Mountain November 21, 2015 (16-4.0)
Round Top Scenic Trail December 5, 2015 (13-3.0)
Cave Creek Bluffs December 12, 2015 (13-4.0)
Alum Cove/Glory Hole December 19, 2015 (15-3.0)
Hike Up Mt. Nebo January 1, 2016 (51-4.0)
Mt. Magazine Trails January 16, 2016 (21-6.0)
Bowers Hollow Bushwhack January 23, 2016 (24-9.0)
Graves Creek January 30, 2016 (32-4.0)
Red Rock February 6, 2016 (15-3.0)
Hurricane Creek Natural Bridge February 13, 2016 (24-3.0)
The Shelters at Chancel February 20, 2016 (48-4.0)
Stack Rock February 27, 2016 (24-3.0)
Cedar Creek Pool March 5, 2016 (18-5.5)
Brock Creek Trails March 12, 2016 (14-5.0)
Fort Douglas CCC Camp / King's Bluff Shelters March 19, 2016 (21-4.0)
OHT Maintenance March 26 2016, (6-6.0)
Twin Falls April 2, 2016 (26-6.0)
Sneeds Creek April 9, 2016 (13-9.0)
Sylamore Creek Trail April 16, 2016 (13-5.0)
Kings River Falls April 23, 2016 (20-2.0)
Blue Hole April 30, 2016 (14-6.0)
Buffalo River Float Trip May 7, 2016 (24-8.0)
---
OUR NINETEENTH SEASON
National Public Lands Day September 24, 2016 (15-3.0)
Mt. Nebo Rim Trail / Picnic October 1, 2016 (76-4.0)
The Secrets of Seven Hollows October 8, 2016 (37-4.0 )
Gee Creek / OHT October 15, 2016 (18-5.0)
Left Fork Big Creek / Wolf Creek October 22, 2016 (18-5.0 )
OHT Maintenance October 29, 2016 (19-7.0 )
Owens & Ricketts Mt. November 5, 2016 (26-3.0)
Hunt's Loop November 12, 2016 (16-5.0 )
Hedges Homestead November 19, 2016 (22-4.0)
Longpool November 26, 2016 (27-3.0)
Lake Sylvia December 10, 2016 (11-4.0)
Pine Hollow Bushwhack December 17, 2016 (19-6.0)
Hike Up Mt. Nebo December 31, 2016 (45-3.0 )
Mt. Magazine Trails January 14, 2017 (15-5.0)
Redding Loop/Spy Rock January 21, 2017 (19-8.0)
Cave Creek Bluffs January 28, 2017 (34-3.0)
Red Rock Cow Pattie Stroll February 4, 2017 (17-3.0)
Rock Creek Bushwhack February 11, 2017 (26-4.0)
Shop Bluff February 18, 2017 (32-3.0)
Devil's Canyon Bushwhack February 25, 2017 (18-3.0)
Sam's Throne & Beyond March 4, 2017 (33-4.0)
Ouachita Trail March 10-11, 2017 (3-20.0)
OHT Maintenance March 16 & 18, 2017 (9-9.0)
Fern Gully / White Rock Mt. March 25, 2017 (22-4.0)
Thunder Canyon & More April 1, 2017 (22-5.0)
Rough Hollow Bushwhack April 8, 2017 (18-3.0)
Sylamore Creek Trail April 15, 2017 (20-5.0)
Payne Hollow Bushwhack April 22, 2017 (7-5.0)
---
OUR TWENTIETH SEASON
Fort Douglas Trailhead Maintenance September 16, 2017 (12-3.0)
Mt. Nebo Rim Trail & Picnic October 7, 2017 (46-4.0) Bench Trail (6-4.0)
Sam's Throne & Beyond October 14, 2017 (25-3.0)
OHT Maintenance October 21, 2017 (10-7.0)
The Bluffs of Parker Ridge Road October 28, 2017 (31-2.0)
The Penitentiary November 2, 2017 (6-7.0)
The Secrets of Seven Hollows November 4, 2017 (23-4.0)
Pedestal Rocks & Beyond November 11, 2017 (26-4.0 )
Mt. Magazine Trails November 18, 2017 (16-5.0)
Sandstone Castles November 25, 2017 (43-5.0)
Indian Victor Cave & Beyond December 2, 2017 (21-3.0)
Cedar Creek Trail & More December 9, 2017 (21-3.0)
Hemmed-In Hollow & More December 16, 2017 (10-9.0)
Hike Up Mt. Nebo December 30, 2017 (36-3.0)
Leatherwood Creek Bushwhack January 6, 2018 (29-4.0)
Return to Leatherwood Creek January 10, 2018 (5-4.0)
The Shelters at Chancel January 13, 2018 (27-2.0)
Dismal Hollow Bushwhack January 20, 2018 (20-6.0)
Moccasin Gap Trails January 27, 2018 (14-4.0)
Marinoni Scenic Area February 3, 2018 (26-6.0)
Penhook Hollow Bushwhack February 17, 2018 (10-4.0)
Winter Hollow Bushwhack March 3, 2018 (26-5.0)
Lower Whitaker Bushwhack March 10, 2018 (20-6.0)
The Bluffs of Long Ridge March 17, 2018 (21-2.0)
Little Cow Creek March 24, 2018 (18-3.0)
Adkins Creek Bushwhack March 31, 2018 (15-5.0)
Engagement Hollow April 7, 2018 (19-3.0)
The Boulders of Upper Hole Creek April 14, 2018 (15-2.0)
Payne Hollow April 21, 2018 (15-5.0 )
OHT Maintenance April 28, 2018 (13-8.0)
---
OUR TWENTY-FIRST SEASON
Mt. Nebo Rim Trail August 11, 2018 (19-4.0)
National Public Lands Day September 29, 2018 (10-1.0)
Mt. Nebo Rim Trail & Picnic October 6, 2018 (70-3.0)
Sam's Throne October 13, 2018 (32-3.0)
Left Fork Big Creek October 20, 2018 (32-3.0)
OHT Maintenance October 27, 2018 (11-8.0)
The Bluffs of Looper Hollow (North) November 3, 2018 (26-4.0)
Hedges Homestead November 10, 2018 (10-4.0)
Bear Creek Bushwhack November 17, 2018 (45-3.0)
The Bluffs of Looper Hollow (South) December 1, 2018 (20-3.0)
An Evening with Tim Ernst December 13, 2018
Petit Jean Trails December 15, 2018 (26-5.0)
Hike Up Mt. Nebo January 1, 2019 (62-5.0)
Cave Creek Bluffs & Backpacking January 5, 2019 (33-2.0)
Stepp Creek Bushwhack January 12, 2019 (19-2.0)
Gunter Branch Foiled January 19, 2019 (23-2.0)
Gee Creek & Backpacking January 26-27, 2019 (32-5.0)
Sandstone Castles February 2, 2019 (36-5.0)
Gunter Branch February 9, 2019 (26-3.0)
The Bluffs of Parker Ridge Road (North) February 16, 2019 (21-3.0)
Seven Hollow Kids Hike February 23, 2019 (20-4.0)
Overnight Backpacking (White Oak, etc.) February 23-24, 2019 (5.0-6 )
Campbell Hollow March 2, 2019 (20-5.0)
The Bluffs of Youngs Point March 9, 2019 (9-2.0)
Mail Trail Hollow March 16, 2019 (24-3.0)
The Shelters of Chancel, Long Ridge, OHT Section 3 March 23-24, 2019 (26-15.0)
The Bluffs of Officers Hollow March 30, 2019 (16-2.0)
Sneeds Creek & Beyond April 6, 2019 (16-9.0)
Owens & Ricketts Mt. April 20, 2019 (11-3.0)
OHT Maintenance April 13 & 27, 2019 (9-8.0)
Kids Hike Petit Jean June 1, 2019 (9-3.0)
Drewry Orchard & More July 13, 2019 (18-1.0)
Kids Hike Mt. Nebo Rim Trail August 10, 2019 (19-3.0)
---
OUR TWENTY-SECOND SEASON
National Public Lands Day September 28, 2019 (10-2.0)
Mt. Nebo Rim Trail & Picnic October 5, 2019 (37-4.0)
Hurricane Creek Natural Bridge October 12, 2019 (31-4.0)
Cove Lake Loop October 19, 2019 (25-5.0)
OHT Maintenance November 2, 2019 (8-5.0)
OHT Overnight Backpacking November 2-3, 2019 (6-8.0)
Leatherwood Creek November 9, 2019 (27-3.0)
Petit Jean Trails Kids Hike November 16, 2019 (16-3.0)
Chickalah Valley Loop November 23, 2019 (22-8.0)
Grapevine Shelter Bushwhack November 30, 2019 (13-3.0)
An Evening with Tim Ernst December 5, 2019
Annie-Wisor Hollow/The North Point December 7, 2019 (31-3.0)
Little Cow Creek December 14, 2019 (16-3.0)
OHT Maintenance December 21, 2019 (6-4.0)
Hike Up Mt. Nebo January 1, 2020 (35-4.0)
Mt. Magazine North Rim January 4, 2020 (36-6.0)
Cedar Creek Prongs Bushwhack January 18, 2020 (26-3.0)
Buzzard Roost January 25, 2020 (30-4.0)
Home Valley Bluffs February 1, 2020 (20-6.0)
Stack Rock February 8, 2020 (19-3.0)
Big Creek Valley Bluffs February 15, 2020 (13-3.0)
Seven Hollows Kids Hike February 15, 2020 (16-3.0)
Upper Horsehead Creek Bluffs Feburary 22, 2020 (19-6.0)
Dismal Hollow Bushwhack February 29, 2020 (15-7.0)
Bowers Hollow Bushwhack March 7, 2020 (13-7.0)
Hudson Mt. Adventure March 21, 2020 (7-3.0)
OHT Maintenance Haw Creek Spring May 4, 2020 (2-3.0)
OHT Maintenance Chancel Spring May 9, 2020 (2-7.0)
Mt. Nebo Kids Hike August 22, 2020 (21-4.0)
---
OUR TWENTY-THIRD SEASON
Mt Nebo Rim Trail October 3, 2020 (52-4.0)
OHT Maintenance Haw Creek Fall October 5, 2020 (2-3.0)
OHT Maintenance Chancel Fall October 10, 2020 (9-5.0)
Cove Lake Loop October 17, 2020 (23-4.0)
The Bluffs of Parker Ridge Road October 24, 2020 (16-2.0)
The Boulders of Upper Hole Creek October 31, 2020 (13-2.0)
Backpacking Trip OHT Section 5 Oct. 31-Nov.1, 2020 (13-6.0)
The Slaty Place November 7, 2020 (18-6.0)
The Secrets of Seven Hollows November 14, 2020 (22-5.0)
Backpacking Trip OHT Section 6 Nov. 14-15, 2020 (7-12.0)
Antenna Pine Overlook November 21, 2020 (22-6.0)
Rock Creek Bushwhack December 5, 2020 (22-4.0)
Upper Horsehead Creek Bluffs December 12, 2020 (25-6.0)
The Bluffs of Looper Hollow December 19, 2020 (11-4.0)
Hike Up Mt. Nebo January 1, 2021 (23-4.0)
Bearcat Hollow Bushwhack January 9, 2021 (14-4.0)
Miller's Goat and Sunrise Loop Trail January 16, 2021 (24-7.0)
Woods Mountain Twins, Etc. January 23, 2021 (28-4.0)
Cave Creek Bluffs February 6, 2021 (12-3.0)
Lake Sylvia and Flatside Pinnacle February 27, 2021 (16-5.0)
Kids Hike Petit Jean Mt. March 6, 2021 (16-2.0)
The Penitentiary March 6, 2021 (27-8.0)
Twin Falls/Richland Falls A New Way March 13, 2021 (35-5.0)
Blue Hole Special Interest Area March 20, 2021 (28-4.0)
Mt. Magazine Trails March 27, 2021 (10-5.0)
East Part Still Hollow March 27, 2021 (23-5.0)
Pedestal Rocks Scenic Area April 3, 2021 (17-5.0)
OHT Maintenance April 10, 2021 (11-8.0)
Sylamore Creek Trail - Gunner Pool to Barkshed April 17, 2021 (9-4.0)
Buffalo River Trail - Ponca to Steel Creek April 17, 2021 (24-4.0)
Valley of the Blind & Beyond April 24, 2021 (18-4.0)
Mt. Nebo Tour of Homes June 19, 2021 (15-4.0)
National Public Lands Day Sept. 25, 2021 (2-2.0)
---
OUR TWENTY-FOURTH SEASON
Mt. Nebo Rim Trail & Picnic Oct. 2, 2021 (`19-2.0)
Sugar Creek Bluffs/OHT Maintenance Haw Creek Oct. 9, 2021 (18-4.0)
Pedestal Rocks Maintenance Oct. 16, 2021 (12-4.0)
OHT Maintenance Section #50 Oct. 23, 2021 (6-5.0)
Chancel & Panther Bluffs Oct. 29-31, 2021 (16-8.0)
Sandstone Castles Nov. 6, 2021 (21-4.0)
OHT Overnight Stack Rock to Richland Campground Nov. 13-14, 2021 (10-8.0)
The Bluffs of Shuler's Point Nov. 20, 2021 (15-3.0)
Cave Creek Bluffs & Overnight Nov. 27, 2021 (27-4.0)
Rattlesnake Ridge Dec. 4, 2021 (11-4.0)
The Bluffs of Upper Horsehead Creek Dec. 11, 2021 (30-5.0)
The Bluffs of McCracken Hills January 8, 2022 (19-3.0)
Pedestal Rocks & Beyond January 22, 2022 (16-5.0)
Cedar Creek Prongs Bushwhack January 29, 2022 (23-4.0)
The Bluffs of Mac Wood Mountain February 12, 2022 (22-4.0)
The Bluffs of Valinor/LaPlaya at Haw Creek February 19, 2022 (16-4.0)
The Bluffs of George Mountain March 5, 2022 (13-4.0)
Bearcat Hollow A New Way March 19, 2022 (25-4.0)
Millers Goat Trail March 26, 2022 (11-5.0)
Left Fork Big Creek March 26, 2022 (10-4.0)
Adkins Creek Bushwhack April 2, 2022 (18-5.0)
Penhook Hollow April 9, 2022 (10-3.0)
Retracing the Steps of Theresa-Beshara Cox April 16, 2022 (3-3.0)
White Oak Falls, etc. April 23, 2022 (16-4.0)
OHT Maintenance April 30, 2022 (3-11.0)
---
OUR TWENTY-FIFTH SEASON
Mt. Nebo Youth Hike August 20, 2022 (12-3.0)
Mt. Nebo Rim Hike & Picnic October 1. 2022 (56-4.0)
Mt. Magazine Trails October 8, 2022 (17-5.0)
Conditioning Backpacking 101 October 8-9, 2022 (7-10.0)
OHT Maintenance October 14-15, 2022 (7-6.0)
Pedestal Rocks Maintenance October 22, 2022 (11-5.0)
Hedges Homestead November 5, 2022 (20-4.0)
Stack Rock November 12, 2022 (17-3.0)
Seven Hollows November 19, 2022 (11-4.0)
East Fork Little Buffalo River Bluffs December 3, 2022 (16-4.0)
Waterfall Polyfoss December 10, 2022 (7-3.0)
The Crushinator/Sandstone Palace December 17, 2022 (12-3.0)
Hike Up Mt. Nebo December 31, 2022 (28-5.0)
Big Creek Valley Bluffs (Part 1) January 7, 2023 (29-3.0)
Redding Loop/Spy Rock Vista January 14, 2023 (12-8.0)
The Bluffs of Long Ridge January 21, 2023 (32-5.0)
Little Cow Creek February 4, 2023 (14-3.0)
OHT Maintenance Haw Creek February 7, 2023 (2-3.0)
The Bluffs of Looper Hollow North February 25, 2023 (20-4.0)
OHT Maintenance Chancel February 21, 2023 (4-4.0)
OHT Maintenance Chancel February 28, 2023 (3-5.0)
OHT Maintenance March 7, 2023 (8-7.0)
Sally Ann Hollow March 11, 2023 (22-4.0)
Bluffs of Looper Hollow South March 18, 2023 (13-4.0)
Winter Hollow March 25, 2023 (15-6.0)
Graves Creek April 1, 2023 (13-5.0)
Panther Bluffs April 8, 2023 (7-4.0)
Bluffs of Parker Ridge Road April 22, 2023 (14-4.0)
Bear Creek April 29, 2023 (17-5.0)
---