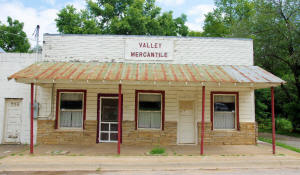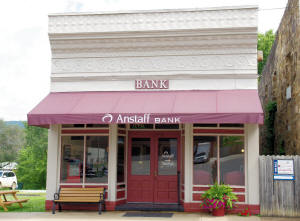 The Bank of Kingston is a historic commercial building at 101 Public Square in Kingston, Madison County, Arkansas. It is a single-story stone structure, built in 1911, notable for the use of pressed metal (provided by the noted Mesker Brothers of St. Louis, Missouri) on three sides. The most elaborate treatment is on the main facade, which has a richly-decorated frieze, cornice, and parapet above the relatively conventional storefront. The east and west sidewalls of the building have a pressed metal veneer shaped in imitation of stonework. The interior of the building, restored in the early 1980s, has also retained rich details. The building is the architecturally finest commercial building in the small community.
The building was listed on the National Register of Historic Places in 1982.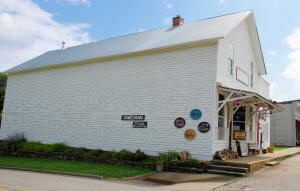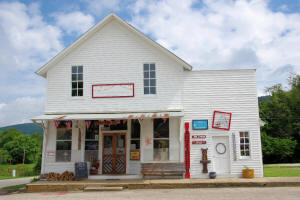 The Bunch Store is a historic commercial building at 100 Public Square in
Kingston, Madison County, Arkansas. It is located at the northwest corner of the main square, and is a two story wood frame structure with a gable roof over its left two-thirds, and a flat roof over the remainder. The building is distinctively 6 inches (15 cm) out of plumb, giving it a noticeable tilt, although its doorways and windows are properly square and plumb, suggesting that something occurred during construction to shift the frame of the building. The store was one of the first commercial buildings constructed in the town after the American Civil War, which was effectively destroyed, apparently by marauding bandits, during the war.
The building was listed on the National Register of Historic Places in 1999