OUR HIKING SEASON IS OVER UNTIL OCTOBER.....HAVE A GREAT SUMMER.
(Macy Lynn Wiley, Danny Hale and Dr. Mary Ann Rollans)
Meet

Macy Lynn Wiley

our first recipient of the TAKAHIK Gary Hodges Memorial Scholarship

Macy is originally from Hot Springs, Arkansas. She graduated from Lakeside high school in May of 2011 and was quickly brought to Arkansas Tech on a softball scholarship that upcoming August. Unfortunately, her college softball career ended in the spring of 2012, but her academic success never declined. She changed her major from Coaching & Teaching to Recreation and Parks her freshman year during the spring semester. She just recently completed an internship with the City of Hot Springs Sports Recreation Department. She is pleased to say, that she will be graduating from Arkansas Tech University on Saturday, May 9th at 2:00, with a degree in Recreation and Park Administration, with an emphasis in Recreation Administration. She is even prouder to say, she ended her college career with a 3.5 GPA.
After graduation, she has many plans for her future. On June 1st, she has to be in Durango, Colorado to begin a work program with the Southwest Conservation Corps (SCC). SCC provides young women and men with structured, safe and challenging service and educational opportunities through projects that promote personal growth, the development of social skills, and an ethic of natural resource stewardship. She will be spending the next 5 months in very remote locations within the Colorado wilderness. On a typical project, Corps members hike, backpack, work, learn, and camp in teams with up to six people and two crew leaders. Projects include trail building, fuels reduction, riparian restoration, erosion control, tree planting, fencing, and exotic plant removal. Although the projects are extensive, she has no idea what kind of conservation work she will be involved with.
In addition to the Colorado opportunity, she has another job interview next Thursday, with Oklahoma State Parks. The position she applied for was Park Operations and Management Trainee. Even though she is unavailable for hire, the interview committee was very pleased with her cover letter and resume, and they offered her a face-to-face interview. Although she is under contract with SCC, the interview committee reassured her that her start date could be postponed if she qualified for the position. She is interested in the position but will remain open-minded for any other possible careers. She is excited for what her future holds for Recreation and Parks and will not waste any time to continue professional development within the field.
Macy is the youngest of three children with two older brothers, Brody and Jesse. Her mom currently resides in Houston, Texas, and her dad has remained in Hot Springs. In her free time, she dedicates herself to the outdoors. She loves to hike, camp, paddle down the rivers and creeks, visit state parks, and spend time with her older brother, Jesse and his dog, Scoop. In the future, she plans to explore the natural wonders of the world and travel every chance she gets. She plans on being very successful somewhere in correlation to a Recreation and Parks career. Her journey is just now beginning but would have never been possible without Arkansas Tech University, its professors, and scholarship providers, like Takahik Club. She is beyond honored to be the first recipient of the Gary Hodges Memorial Scholarship, and appreciates every opportunity to become affiliated with recreation and park based organizations. Recreation and Parks hold a special place in her heart, and she couldn't be happier that the good Lord led her down His path.
---
---
---
Dedicated to the promotion, preservation and enjoyment of hiking trails in Arkansas
Trail maintenance, conservation and education
Organized group hikes (See Scheduled Hikes)
Trail information and maps
Meetings last Tuesday of each month (Oct.-May)

As of 5/2/15:

468 Hikes

8150 Hikers

2038

Miles
---

Slot Rock

Little Missouri

Hiking Arkansas




Hawksbill Crag

Seven Hollows

TAKAHIK is now on Facebook.
A new way for hikers to communicate.
Just click on facebook above.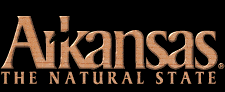 Visits since April 1999
Last Update May 8, 2015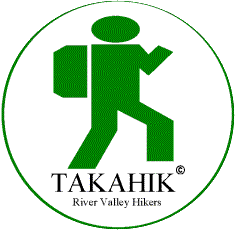 Takahik Logo Copyrighted VAu-482-430, 8/25/99
TAKAHIK (Pronounced "take-a-hike")
See Organization Video: Length: 1:44 min
Danny and Brenda Hale and their friends, Steve and Becky Hern, had been tossing around the idea about starting a local hiking club for several years. They were finally convinced to do so, during a slide-show presented by Tim Ernst and William McNamara, a nature photographer/hiking enthusiast and a nature painter respectively, when a sign-up sheet was signed by over 50 people expressing an interest in such a club.
Being encouraged by the response, an organizational meeting was held on January 26, 1999 in Russellville. A large crowd attended and after discussing some of the goals, projects and benefits of a club, TAKAHIK River Valley Hikers, was official organized.
Meetings are held each month which include various programs on clothing, equipment, hiking trails, literature and books available, trail maintenance, future and on going projects, videos, trip planning (in and out-of-state) and scheduled hikes for the upcoming month.
Meetings and memberships are open to anyone interested in enjoying a part of Arkansas that most never get to enjoy. Great for families, friends and even your pets.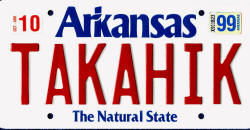 Officers Jan. 29, 2014- Jan. 27, 2015
President - Danny Hale Sec./Treasurer - Steve Hern Membership Coordinator - Mary Ann Rollans
Trail Maintenance Coordinator - Dale Boeh Events Coordinators - Bill & Gerry Hemmer
FOR INFORMATION OR QUESTIONS
Contact Danny Hale: (479) 968-7922 or 479-886-2625 Cell or Email takahik@takahik.com
MAIL INQUIRIES TO: TAKAHIK River Valley Hikers
217 Canterbury Circle, Russellville, AR 72802
Designed using Microsoft Expression Web 4 '66