Red Rock Cow Pattie Stroll 2/6/16 See Pics
MYSTERY ON GRAVES CREEK 1/30/16

Found this backpack today
on the ground at Graves Creek.....
the backpack had been ripped
open by some animal,
contents missing. Only
a bar of soap and the shoes
attached. There were claw and teeth
marks on the pack.

Need to know if anyone knows
anything about this. It
would be unusual
for someone to just
abandon the pack.



It was an Expedition 35 pack......


It was found near
Graves Canyon Falls
in Pope County.
If you have any information please
contact Danny Hale at 479-968-7922
or 479-886-2625 or
dlhale@suddenlink.net

On down the creek was
this hamock and even
further down the creek
we found a sleeping bag.



Location of packpack........

Click on above for our
NEW
Facebook Page
---
---
Dedicated to the promotion, preservation and enjoyment of hiking trails in Arkansas
Trail maintenance, conservation and education
Organized group hikes (See Scheduled Hikes)
Trail information and maps
Meetings last Tuesday of each month (Oct.-May)

As of 2/6/16:

484 Hikes

8554 Hikers

2113

Miles
---

Stepp Creek



Buffalo River

Hiking Arkansas




Hawksbill Crag



The Secrets of

Seven Hollows

TAKAHIK is now on Facebook.
A new way for hikers to communicate.
Just click on facebook above.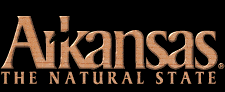 Visits since April 1999
Last Update February 6, 2016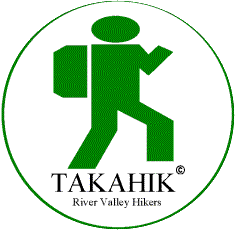 Takahik Logo Copyrighted VAu-482-430, 8/25/99
TAKAHIK (Pronounced "take-a-hike")
See Organization Video: Length: 1:44 min
Danny and Brenda Hale and their friends, Steve and Becky Hern, had been tossing around the idea about starting a local hiking club for several years. They were finally convinced to do so, during a slide-show presented by Tim Ernst and William McNamara, a nature photographer/hiking enthusiast and a nature painter respectively, when a sign-up sheet was signed by over 50 people expressing an interest in such a club.
Being encouraged by the response, an organizational meeting was held on January 26, 1999 in Russellville. A large crowd attended and after discussing some of the goals, projects and benefits of a club, TAKAHIK River Valley Hikers, was officially organized.
Meetings are held each month which include various programs on clothing, equipment, hiking trails, literature and books available, trail maintenance, future and on going projects, videos, trip planning (in and out-of-state) and scheduled hikes for the upcoming month.
Meetings and memberships are open to anyone interested in enjoying a part of Arkansas that most never get to enjoy. Great for families, friends and even your pets.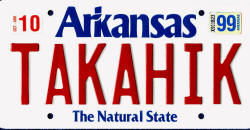 Officers Jan. 26, 2016- Jan. 31, 2017
President - Danny Hale Sec./Treasurer - Steve Hern Membership Coordinator - Mary Ann Rollans
Trail Maintenance Coordinator - Dale Boeh Events Coordinators - Bill & Gerry Hemmer
FOR INFORMATION OR QUESTIONS
Contact Danny Hale: (479) 968-7922 or 479-886-2625 Cell or Email dlhale@takahik.com
MAIL INQUIRIES TO: TAKAHIK River Valley Hikers
217 Canterbury Circle, Russellville, AR 72802
Designed using Microsoft Expression Web 4 '66