TAKAHIK: Arkansas Road Trips When it's Too Hot to Hike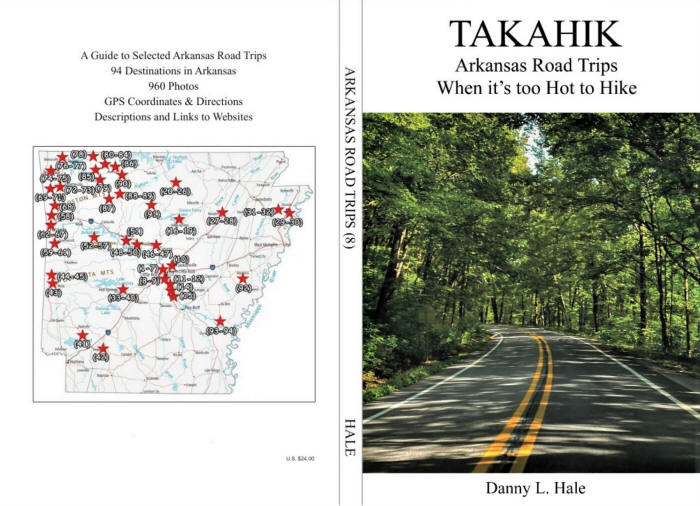 ISBN 9798211875050 (Publish Date 10/27/2022)
---
ABOUT THE BOOK
This Arkansas Road Trip Guidebook has places that folks can spend during the summer months, when they




decide it's too hot to hike. There are 94 destinations, 960 photos, GPS coordinates, directions,


descriptions, and links to websites. There are hundreds of other destinations in Arkansas, so when
you are planning a trip, check out the internet and see what else is close by, before you leave.
---
HOW TO ORDER ONLINE FROM PUBLISHER (Using Credit Card or Paypal) and/or PREVIEW OF THE BOOK
Book Cost: $24.00 State Sales Tax: ? Shipping Cost: Economy $3.99
Click on the following link: Buy and/or Preview the Entire Book
PLEASE NOTE: When ordering ONLINE, these books are printed on demand. Quality may vary from printing to printing and from Printing Company to Printing Company.
---
HOW TO ORDER FROM TAKAHIK (Danny Hale)
Book Cost: $24.00 Shipping Cost: $3.00
Mail Check in the amount of $27.00 to: Danny Hale, 217 Canterbury Circle, Russellville, AR 72802
or see me in person (on a hike). Or call 479-886-2625 Cell or email dlhale@suddenlink.net
---