TAKAHIK: Bluffs of the Arkansas Ozarks and other Selected Areas
ISBN 9781006127106 (Publish Date 12/9/2021)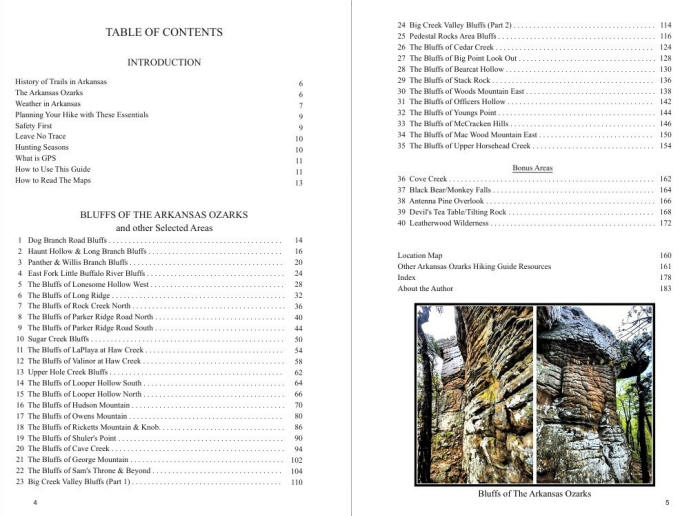 ---
ABOUT THE BOOK


A different kind of hiking guidebook that was designed for the GPS user. Forty selected hikes and bushwhacks to Bluffs of the Arkansas Ozarks and other Selected Areas.

(1107-photos, 106-maps)

Trails are overlaid on USGS Topo Maps with GPS Coordinates, descriptions, mileage and difficulty. Many are to bluffs, waterfalls, rock features, shelters and some amazing vistas. The Bluffs and Selected Areas are only a small sampling of some of the outdoor adventures you will find in Arkansas. Get out and discover some of them today. You won't be disappointed.
---
HOW TO ORDER ONLINE FROM PUBLISHER (Using Credit Card or Paypal) and/or PREVIEW OF THE BOOK
Book Cost: $24.00 State Sales Tax: $? Shipping Cost: Economy $3.99
Click on the following link: Buy and/or Preview the Entire Book
PLEASE NOTE: When ordering ONLINE, these books are printed on demand. Quality may vary from printing to printing and from Printing Company to Printing Company.
---
HOW TO ORDER FROM TAKAHIK (Danny Hale)
Book Cost: $24.00 Shipping Cost: Economy $3.00
Mail Check in the amount of $27.00 to: Danny Hale, 217 Canterbury Circle, Russellville, AR 72802
or see me in person (on a hike). Or call 479-886-2625 Cell or email dlhale@suddenlink.net
---